Quick and easy salad of delicious grilled chicken marinated in pineapple juice served with fresh veggies that will lighten up any BBQ. the fresh taste of the veggies with the smokey flavor from the grilled chicken will combine to create the best side dish for your next BBQ party.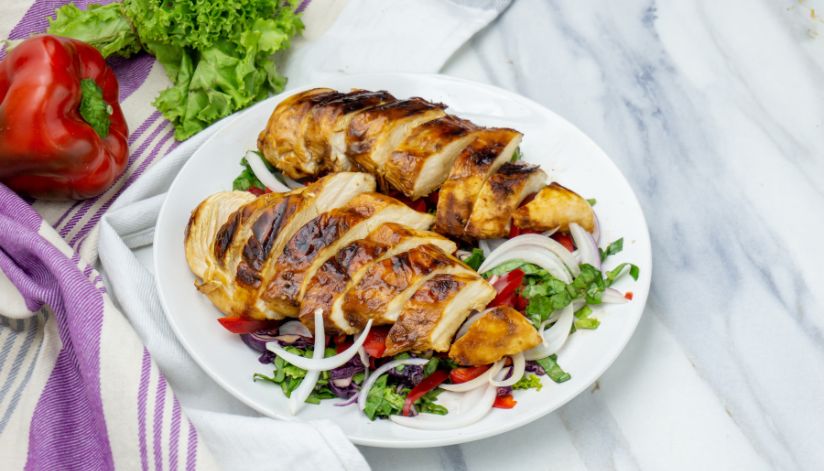 Asian Island Grilled Chicken Salad Recipe
This Asian Island Grilled Chicken Salad Recipe combines spicy and savory flavors with fresh vegetables. It's the perfect way to find balance in your diet.
Ingredients
2

boneless, skinless chicken breasts

½

cup

Pineapple Juice

1

tbsp

soy sauce

1

tbsp

packed brown sugar

1

clove garlic, finely chopped

1

cup

 red bell pepper, thinly sliced

¼

cup

Red Onion, thinly sliced

1

cup

shopped cabbage

1

cup

chopped roman lettuce

1

cup

chopped arugula

Salt and Pepper
Instructions
Combine pineapple juice, soy sauce, brown sugar and garlic with 1 tablespoon provided sesame ginger dressing in small sauce pan. Bring to boil and reduce to 1/3.

Heat the grill or grill pan over medium-high heat; brush grill lightly with oil or spray with non-stick vegetable cooking spray

Baste chicken with pineapple mixture. Grill chicken, turning once after 10 to 12 minutes or until no longer pink in the center.

Slice chicken. Place salad blend (cabbage, lettuce, arugula ) in large bowl with provided accompaniments and toss with remaining dressing.

Arrange salad on plates; top with bell pepper, onion, and chicken.