If you are a newbie to grilling and/ or smoking, you might be confused on what items you should purchase to accompany your new friend- especially if your friends and family suggest some that aren't especially necessary for a grill beginner.
Ahead, we've put together a list of the 10 items that are essential for your grill and smoker!
1- Heat resistant BBQ gloves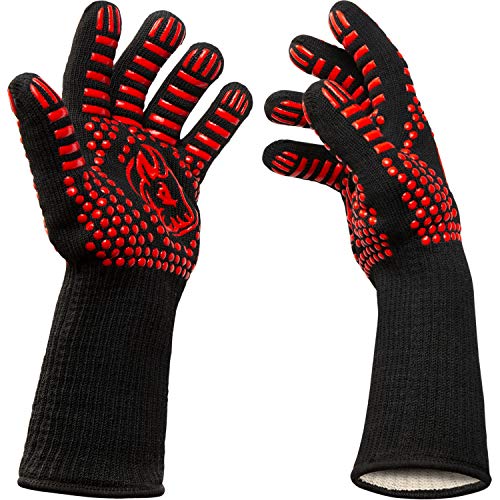 Whether you want to turn around your food, avoid any sudden splashes of sizzling oils and sauces, or simply protect your hands and arms from the heat- you need a good pair of heat resistant BBQ gloves.
A good pair of heat resistant gloves would have a silicone exterior and a cotton lining, and it would be able to maintain resistance against heat up to 700° F.
Some people also substitute heat resistant gloves for high-quality grill mittens that are specifically made for the heat emitted from a grill; these grill mitts tend to be made up of high-quality leather, silicone, heavy cotton, etc. and can reach up to the elbows.
Don't make the mistake of using just any pair of gloves you find or settling for the mittens by your oven, as some heat resistant gloves and regular mitts are designed to handle heat up to certain temperatures (for example: some gloves might stand strong against 450° F, while others won't be able to handle anything further than 250° F).
2- A meat thermometer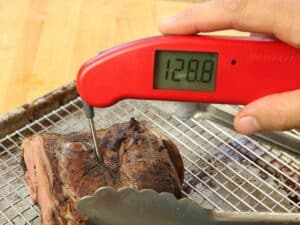 Whatever your level of expertise in grilling or smoking is, beginner or not, knowing whether the inside of the meat is actually cooked and not just raw despite the perfectly seared outside is a difficult task. Leaving the meat on top of the flames for a couple of minutes 'just in case' could completely dry out your food, or taking it out to save it from that can leave you with a severely undercooked inside.
That is why it is strongly suggested by many that you buy a meat thermometer (alternatively known as a cooking thermometer), and it'd be a big bonus for you if it is digital and/ or wireless).
With a meat/ cooking thermometer, you can save yourself the trouble of guessing and just know the actual internal temperature of your food. The traditional meat thermometer would show you the internal temperature of the meat due to the heat causing the strip of metal connected to bend and/ or twist (it depends on the temperature of the meat, and how high/ low it is), and this continuous moving sends the message to the display face of the thermometer, and voila! You have your answer.
The benefit of digital, wireless meat thermometers is that they're much easier to use and just as accurate as any. They work by inserting the probes into the meat, and the results (aka, the temperature of your food) are shown on the display face, all thanks to the transmission done by the wireless technology.
3- A chimney starter (for charcoal)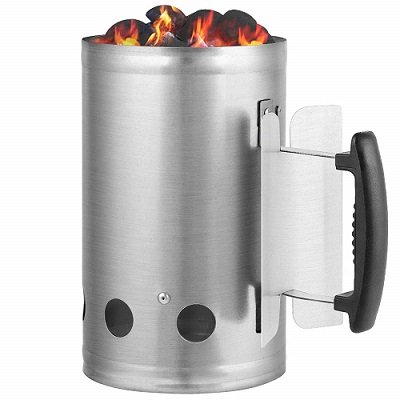 This one's for all of you that sit in front of your grill or smoker, basically asking it to light up after so many tries.
A chimney starter, a chimney- fire starter, a charcoal chimney- whatever you want to call it, is the device you have been looking for but didn't know you needed. It comes in a metal tube with a grate to hold the charcoal in, and it ignites charcoal lumps and briquettes!
It gets the job done because it helps that ever- so- difficult oxygen to flow over the coals more efficiently. The charcoal in the chimney starter will begin burning from a paper in fire, and you should allow the flames to grow for 10 minutes to 15 minutes before finally dumping them onto the grill/ smoker. Let the coals burn for an extra 20 minutes or so, or until you've noticed the charcoals on top have started to turn a slightly lighter color and are covered in white or gray ash.
4- A grill brush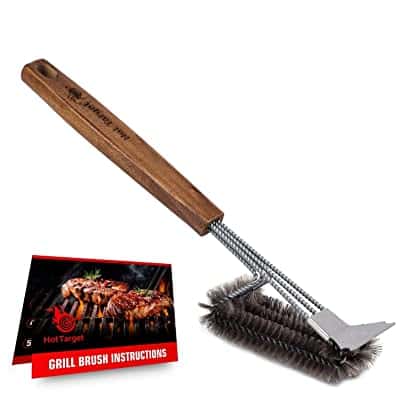 The importance of a clean grill or smoker, especially a clean cooking area, can never be stressed enough. For the sake of your grill/ smoker's life span, your food's taste, and your health: keep it clean and scrubbed!
Many tend to use cloths or scrunched- up aluminum foil to clean the cooking area (the surface, the grates, etc.) before and after every use. But really, investing in a good BBQ grill brush will get the job done the best, and last for quite a good time as compared to its rivals- the cloths and crumpled tinfoil.
The best grill brush to use, and the safest, is a stainless steel grill brush (because it has stainless steel bristles that won't leave any residue behind that can get stuck on your food and potentially put you in harm's way).
The most common way to use it is by turning the temperature of your grill/ smoker as high as possible after it was used and get to work with the grill brush. This way, the residue from the food, sauces, and grease stuck on the grates will be easy to brush off with the grill brush. A major bonus is that you won't have to worry about wasting time for the grill or smoker to cool down in fear of burning yourself, and your grill brush will not damage or leave any scratches on the surface of your cooking device.
5- A basting brush
Once it comes down to applying the sauce, marinade, or whatever you're using on your steaks and ribs, the topic of what you should be using might confuse you every now and then- should you pour it? Or maybe you should use paper towels? Or, perhaps, just your hands…
This is why we highly recommend using a basting brush and/ or mop to get the job done as quickly as possible with no messes or mishaps. Dip the brush in what you will be using, and use it for smaller cuts of food, like chicken breast; the basting brush works best in thicker sauces.
A basting mop is better for thinner sauces or marinades, since it holds more liquid in.
To clean a basting brush or mop, you should dip it in a cup with bleach for some time to kill off any bacteria in between the bristles, which are traditionally plastic. However, there are basting brushes/ mops that are easier to clean due to having silicone bristles, but the downside of them is that you have got to dip them more than once in the sauce or marinade when applying them to your food.
6- A propane gas level indicator:
When using a propane- gas grill or smoker, it is always a wonder how much propane is left inside the tank. Some say to just weigh it, but what if weighing the tank is just not accurate enough for you?
We suggest purchasing a propane- gas level indicator, which will show you how much propane is left inside the tank and you won't have to guess anymore.
You should simply apply the indicator by the base of your tank (out of direct sunlight), turn on the gas, and wait 2 minutes to 5 minutes before finally seeing the answer you're looking for in the indicator. If it indicates that the propane tank is half (50%) full, then it will approximately have 125 gallons of propane inside, and so- on and so- forth.
7- Tongs:
It's finally time to turn your food on the grill to the other side, but… what will you use? A big fork?
Investing in tongs to help make the process easier is the way to go, but investing in long- handled tongs that are made of high quality metals (like stainless steel) would be even better. They'd last longer (as compared to cheap tongs that are made up of low quality aluminum that can easily heat up and bend), and you won't have to worry about burning your hands.
You can now very easily grab your food, lift it, and move it around without worrying about piercing it or burning yourself.
8- A spatula:
Some foods you could be grilling or smoking can be more delicate when compared to others, and even a quick move with a pair of tongs can damage the visuals of your, say, fish fillets.
With a spatula, you can swiftly flip them from bottom to top without worrying of their visuals. And, of course, investing in a good spatula goes without saying.
Silicone and metal spatulas are known to work great for grilling, and it'd be much preferable if they were long- handled to help keep your hands away from the dangers of the heat. Another spatula that someone might have recommended to you is a spatula known as 'slotted turner'.
A 'slotted turner' has holes that would allow the oil and sauces on your food to drain as you flip them.
9- A grill basket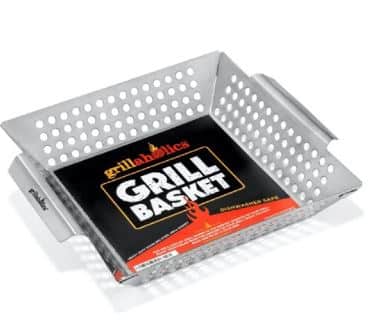 Have you ever placed sliced vegetables and fruits on your grill, and then noticed they just fell through the cracks, onto the burning flames? We sure have.
Here is where a grill basket comes into play. Made up of a large weave- mesh, a wire grilling basket will easily become one of your favorite items to use on your grill.
Although there are many types of different foods (like meatballs), you could purchase an all-purpose grilling basket and have the best of all worlds. You can use it to grill the foods that you'd fear can fall through the grill or smoker grates, like vegetables, fruits, seafood, you name it! Simply place your food in the grill basket, and place it over the grill/ smoker.
Let's do a quick summary, shall we? The 9 essentials for grilling and smoking are:
Heat resistant BBQ gloves.
A cooking thermometer.
A charcoal chimney starter.
A grill brush.
A basting brush and/ or mop.
A propane- gas level indicator.
Tongs.
A spatula.
A grilling basket.