Want to invite your friends for a little barbeque lunch, but don't know what Steak to get? Or does the thought of using a grill intimidate you? Maybe you're not so sure about what spices to mix together and use for a savory steak! Don't worry, we've put together 7 tips to ease your worries and help you grill that perfect steak for your next BBQ party!
Get The Steak Ready.
While we all surely enjoy all types of steak, we might have one or two specific types that just get our hearts pumping from excitement. Whether it's the juiciest, and most tender ribeye your local supermarket has, or a less fat, differently textured T-bone- invest in the steak of your choice and prepare to do magic with it.
Don't be afraid to ask the local butcher to chop it up for you- whether it'll be a 1" thick ribeye or 2" thick T-bone. Let your heart be fulfilled!
Let the Steak Chill and Relax!
After making a decision on what steak you'll be having, get ready to make yet another one. Many people tend to let their steak cool down to room temperature for at least 30 minutes before grilling; however, if you have the time and resources, it's best to marinate it and let it sit overnight.
Now, there are two things you could do here! You could: A- salt The steak of choice to your desire, making sure to get both sides equally. After that is done, put it into your fridge on top of a foil-lined tray, uncovered, or you could also wrap it up with a plastic wrap! A short explanation as to why you should salt the steak and let it sit overnight is that salt draws the juices inside the raw steak to the surface, then it dissolves said juices, and forms a brine that will be reabsorbed by the steak .
Or B- You could marinate the steak. Throw the ingredients (soy sauce, olive oil, pepper, parsley, hot sauce- you name it!) into a blender and blend until they are thoroughly mixed. Once done, pour the newly-made marinade over the steak, cover it, and refrigerate it overnight. Marinating your steak helps enhance the flavor and makes the tougher parts of your beloved steak tender (the longer you let it marinate, the more tender it will be!)
Get the Grill Sizzling.
The night has passed, and the fated time has arrived- or has it?
Take your steak out of the refrigerator and let it come up to room temperature for about 20 to 30 minutes. While that is being done, how about you get that grill ready?
If your grill is brand new, it's recommended you season it (unless it has a porcelain enamel that doesn't require seasoning); seasoning a new grill will help keep grill rust at bay. However, if your grill is not brand new and you have used it before, simply wipe off any old debris and dust, and get started!
If you're using a: Charcoal grill: preheat it for at least 20 minutes; Use some old newspaper and lighter fluid to get the fire started, and don't forget to open any vents to let air flow and fan the flame!
If you're using a: Gas grill: unlike charcoal grills, gas grills actually heat up quite fast; keep the grill's lid raised while lighting it up, and turn the propane tank's valve open, then turn on one burner and press the button to ignite it (you can turn on as many burners as you would like to use, or feel necessary). Let it preheat for 10 or so minutes.
Now, should we get back to the steak?
Oil Up! And Spice!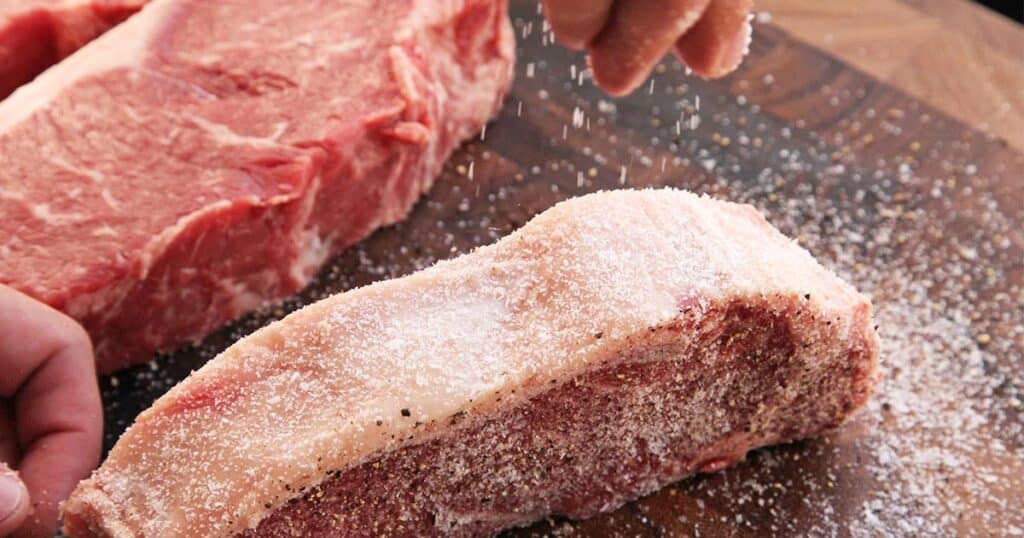 The steak is prepared; your grill is preheating- now it's onto the fun stuff!
The seasoning you choose to put on your steak doesn't need to be over the top-it can be something as simple as salt and pepper, and a great, savory taste will still be guaranteed! And remember, while you're free to season to your liking, do it equally on both sides; think of this as the process of putting on a shirt, but on the steak: oil it, spice it evenly and equally so that there's a visible cast on it. It's a cute shirt made up of spices!
Brush the steak from both sides with oil (canola oil or olive oil both work just fine!), then season it liberally and equally with kosher salt and black pepper, and press them onto the steak so that they don't pile up.
If you'd like to use other spices, or add onto those two- you can also do that! Seasonings like basil, curry powder, oregano, cumin (and more!) are great additions to your steak.
Remember to cook your steak until it's golden brown and slightly charred (this would be around 4 to 5 minutes). Depending on your choice of steak, keep these in mind:
Grill for 3 to 5 minutes for medium- rare (with internal temperature of 135 degrees Fahrenheit).
Grill for 5 to 7 minutes for medium (with internal temperature of 140 degrees Fahrenheit).
Grill for 8 to 10 minutes for medium- well (with internal temperature of 150 degrees Fahrenheit).
How would you know the internal temperature? Well, this takes me to my next point!
Use a Meat Thermometer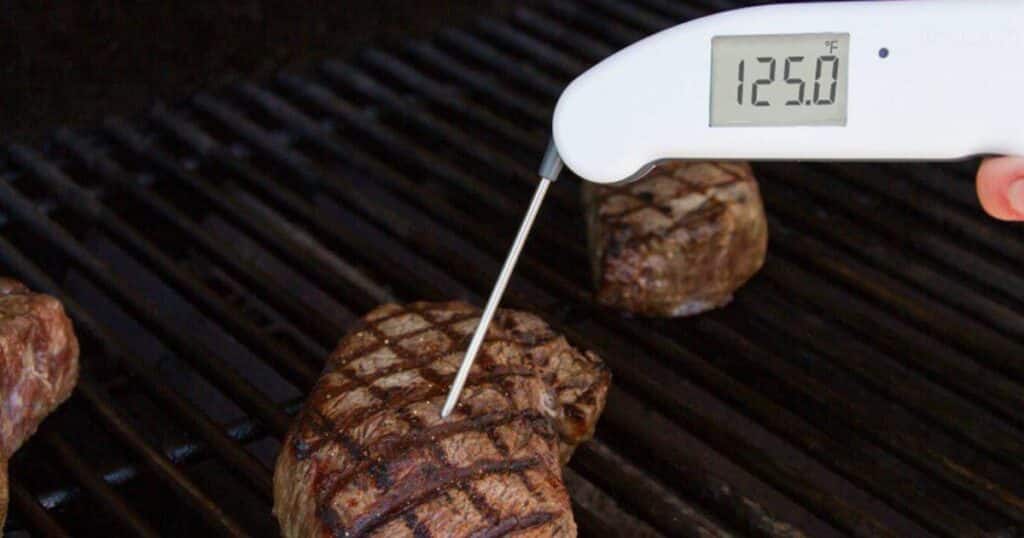 You might think: why would I need this? I can totally pull through with a great steak without this useless device!
Yes, maybe you could! Or maybe it's sheer luck or long term experience! But believe me when I say: a meat thermometer will make the whole process of grilling your steak much easier.
First, and foremost: you won't have to keep guessing whether your steak is cooked to your preference inside. There's just no way you, or even the best cook in the world, can know the temperature of your steak unless you poke and touch until the tips of your finger are red and burned (oh, the pain we go through for what we love). By investing in a meat thermometer (doesn't have to be an expensive one! You can find many affordable ones online that will still get the job done), you can get rid of your worries about overcooking or undercooking your steak. After all, if you just guess, poke, and burn your fingers, you could end up with a steak that's cooked on one side, and raw on the other. We don't want that, do we?
Second: whether you're cooking for yourself, your family, or a get- together with friends, you'll be able to provide the perfect steak for everyone's liking– may it be medium-rare or medium-well.
Let the steak rest
Ah, the long, tiring process of wanting, preparing, preparing, preparing, and grilling is finally over! Now, it's time to rest.
And no, I don't mean you. You're not quite done yet!
Once your steak is done from the grill, you should let it rest aside for 5 minutes or more (depending on the thickness). The reason you should let your steak rest, rather than immediately dig in, is because your steak continues to cook for a couple minutes due to the residual heat, and the juices need time to redistribute around the steak. Now, no one wants to eat a burning- hot, brown- colored steak, am I right?
Grill Some Veggies!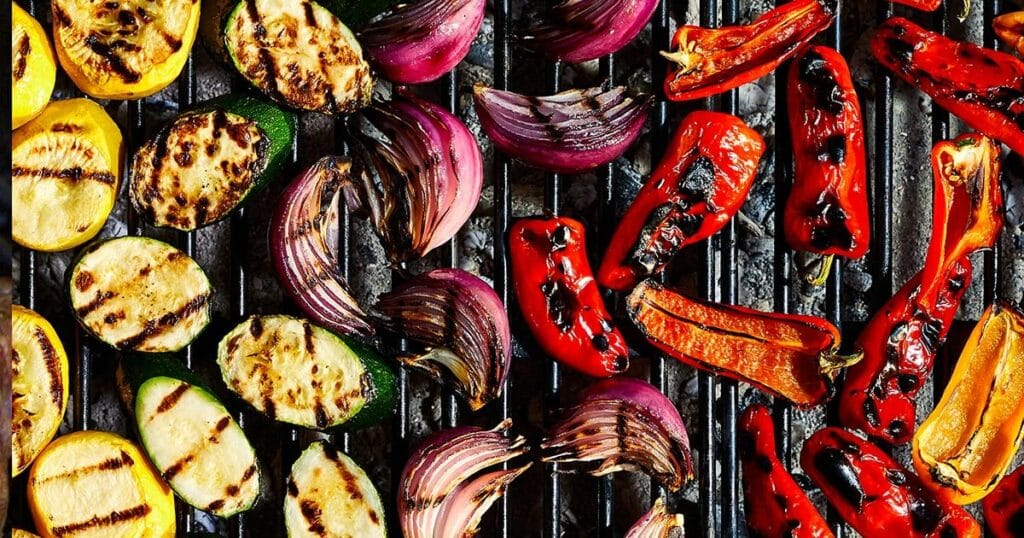 I know, I know! It's hard to stay away from such a beauty after working on it for some time, but while it rests, you can busy yourself with chopping up and grilling some vegetables.
Why grill vegetables when you've got a whole steak waiting for you? Simply put, grilled vegetables are amazing side dishes to your meal, and they only add more flavor to your already flavorful dish.
Some of my favorite vegetables to grill are: bell peppers (especially red!), carrots, onions, and more!
Just wash them up, chop them, and season them with salt, black pepper, paprika, garlic powder, or whatever else you can find in your cupboard and deem perfect for them.
Alright! Your steaks are done and cooled down to perfection with your side dishes making them shine in glory, and now it's time to dig in! You won't have to worry anymore about hosting BBQ parties at your place anymore, and your guests' taste buds will be blown away!