tender, juicy pork chops that have been marinated in a sweet brown sugar sauce and grilled followed by a grilled pineapple ring on top. These flavorful Pineapple Pork Chops are the ideal quick dinner because they are so simple to prepare.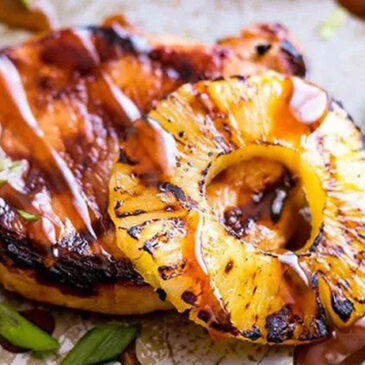 Pineapple Grilled Pork Chops Recipe
Pineapple Grilled Pork Chops are delicious and easy to make. Simple marinade adds great flavor to the pork chops, served with a side of rice or potatoes.
Ingredients  
4

boneless pork chops 

8

oz

pineapple rings can, juice drained and reserved

¼

cup

light brown sugar

¼

cup

soy sauce

¼

tbsp

garlic powder

½

tbsp

ginger powder

Salt and Pepper
Instructions 
In a large plastic Ziploc bag mix together the drained pineapple juice, brown sugar, soy sauce, garlic powder, ginger powder and black pepper. Smush the bag with your hands to dissolve the sugar. Reserve 1/2 c. marinade and set aside for basting.

Place the pork chops into the marinade. Squeeze out any air in bag, seal and place in refrigerator overnight or at least 4 hours. Reserve the pineapple rings.

Preheat grill to 350 degree F. Rub grates with oil.

Remove pork chops from marinade. Shake off excess. Place on grill and grill 5-8 minute per side. Brush with reserved marinated several times while grilling. 

While pork is grilling place pineapple rings onto the grill and allow to cook until hot and the slices show grill marks then remove from grill.

Remove pork chops from grill when internal temperature reaches 145 degrees F. Cover with tinfoil and let rest 10-15 minutes. Then top with pineapple slices and serve.