making this Chicken and Chorizo Paella at home is simple and fun. It's prepared with chicken thighs, classic Spanish chorizo, a sofrito, and short grain rice. Today I'm going to teach you how to create the ideal paella!.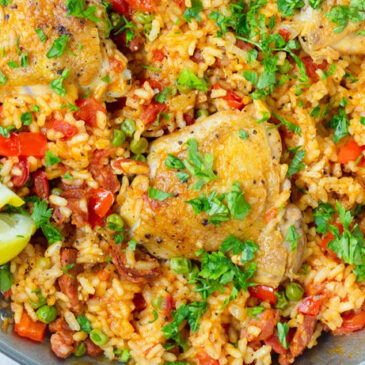 Chicken and Chorizo Paella on the Grill Recipe
Grill up something different for your next cookout with this chicken and chorizo paella recipe. your taste buds will thank you!
Ingredients
4

 chicken thighs

1

medium yellow onion, small diced

1

red bell pepper, seeded and small diced

4

cloves garlic, minced

½

teaspoon smoked paprika

8

oz smoked or semi-smoked Spanish chorizo

2

cups Arborio rice

1

can (15 oz) diced tomatoes

A large pinch of saffron threads

3

cups chicken broth plus 2 tablespoons

1

 cup frozen peas

1

tbsp olive oil

Chopped Italian parsley for garnish

Salt and pepper

Lemon wedges
Instructions
Combine the large pinch of saffron threads with 2 tablespoons chicken broth to let it infuse. Set aside.

Season chicken with salt and pepper on both sides. Heat about 1 tablespoon olive oil in a large 12 inch shallow skillet or paella pan over medium heat. Cook the chicken about 7-8 minutes per side, until browned and cooked through. Remove from pan and transfer to a plate.

To the same pan, add the onions, bell peppers, garlic, and smoked paprika, adding more olive oil to the pan if needed. Cook until softened and fragrant. Add chorizo to the pan and cook for about 3 minutes until brown, stirring occasionally.

Add the rice and diced tomatoes, and stir. Cook about 2-3 minutes.

Stir in the 3 1/4 cups of chicken broth and saffron threads along with the liquid. Season with 1 teaspoon salt and ¼ teaspoon ground black pepper. Increase heat to high and bring back down to a simmer. Add peas and return chicken to the pan.

Cook, covered, for 20-25 minutes on low, rotating occasionally if one side of the pan is cooking less than the other. This will also prevent the bottom from burning.

Remove from heat and let it sit for 10 minutes. During this time, the rice will absorb the remaining liquid and flavors.

Serve with parsley and lemon wedges. Enjoy!
Nutrition