Grilling the pineapple adds a delicious, slightly smoky flavor to this tropical cocktail.  Grilled Pineapple Mai Tai is slightly sweet, slightly smoky, and oh so delicious.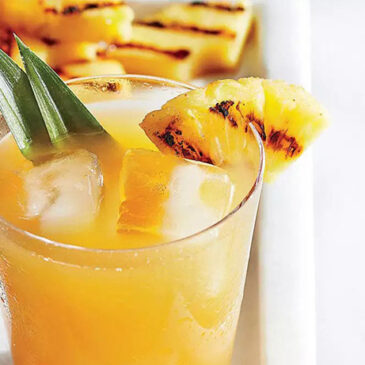 Grilled Pineapple Mai Tai Recipe
This grilled pineapple mai tai recipe is a surefire way to impress your guests this summer. It takes just a few minutes of prep time, and the end result is amazing.
Ingredients  
¼

oz

grenadine

2

oz

 pineapple juice

¼

pineapple

1

oz

coconut juice ½

oz

fresh lime juice

1

 slices of pineapple

4

oz

pineapple juice
Instructions 
Preheat the grill on high.

Brush the pineapple with canola oil. Grill 3 to 5 minutes on each side or until the pineapple has nice grill marks. Turn the pineapple slices over and grill an additional 3 to 4 minutes or until the pineapple has nice grill marks and starts to become tender.

Remove from heat and place in a blender with 6 ounces of pineapple juice.

Run the puree through a fine mesh strainer to remove any fibrous bits

Refrigerate until you're ready to use.

Fill a cocktail shaker with ice.

Pour the grenadine in the bottom of a high ball glass and fill 2/3 full with ice.

Pour the pineapple pure along with the remaining ingredients in the cocktail shaker. Shake 60 to 90 seconds or until the shaker is cold very cold.

Pour the mai tai through a strainer into the prepared high ball glass.