This grilled pineapple salsa recipe is a delectable summer snack with chips or eaten with tacos, grilled meats, and seafood. It is sweet, smoky, and slightly spicy. On a warm night, the contrast of the sweet, caramelized fruit and the subtle grill char was so lovely and reviving.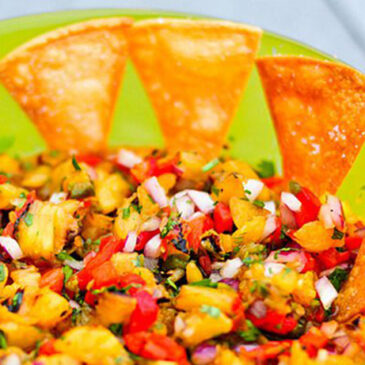 Grilled Pineapple Salsa Recipe
This Grilled Pineapple Salsa is a fantastic recipe for summer parties, fire pits and picnics. The pineapple adds a unique flavor that's refreshing and sweet.
Ingredients  
1

 large pineapple cut into 1/2-inch thick slices

1

red bell pepper , halved lengthwise, seeds removed

1

 jalapeño pepper

1

 lime , halved

1

tbsp

extra-virgin olive oil

1

tbsp

honey

½

tbsp

 ground cumin

½

cup

chopped red onion

2

tbsp

 chopped cilantro

tortilla chips , for serving

Salt and Pepper
Instructions 
Heat grill with a medium-high flame. Oil grates or line with a nontoxic, nonstick grilling mat.

Lightly brush pineapple slices, peppers, and the cut side of the limes with olive oil. Season with a few pinches of kosher salt and freshly ground black pepper. 

Grill, placing limes cut side down, until grill marks appear and pineapple and peppers have begun to soften; 3-4 minutes total for the limes, 3-4 minutes per side for the peppers, and 5-8 minutes per side for the pineapple . Remove from grill and let stand until cool enough to handle.

Cut grilled jalapeño pepper in half lengthwise and remove seeds . Chop grilled pineapple and peppers into into bite-sized pieces. You should have about 2 cups of pineapple and 1/2 to 3/4 cup of red pepper.

In a medium bowl, whisk together the extra virgin olive oil, lime juice, honey, ground cumin, salt, and pepper. Add pineapple, peppers, red onion, and cilantro, tossing to combine. Season to taste with additional salt, pepper, and cumin, if desired. 

Let stand, covered, for about an hour to allow flavors to meld, stirring before serving
Nutrition
Calories:
275
kcal
Carbohydrates:
5
g
Potassium:
54
mg
Sugar:
5
g