I've been grilling for years, but there are times when it's just too hot to fire up the full-size grill. When this happens, I pull out my portable grill and get cooking. It's also great for indoors when you want to enjoy grilled food without having to go outdoors. Portable and indoor grills are perfect for those who do not have access to outdoor space or just don't want the hassle of firing up that full-size grill.
Cuisinart CGG-180 CGG180 Propane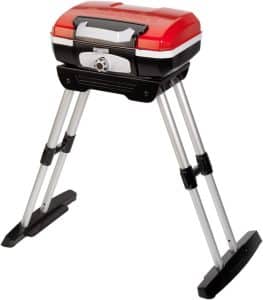 The Cuisinart CGG-180 Portable Grill has adjustable temperature control from 200°F to 500°F and comes with a built-in thermometer so you know when it's at just the right temperature for cooking your food safely and evenly. You don't need any tools for assembling or disassembling this portable gas grill—just remove all parts from their boxes, snap everything together, put it in the propane tank (sold separately), and turn on your new Cuisinart CGG180 Propane Petit Gourmet Portable Gas Grill! This grill is small enough to fit on your kitchen counter and can cook up to 6 burgers at a time. It's perfect for people who want to grill indoors, but this grill doesn't have the same power as some of the other electric grills on this list.
It has nonstick ceramic enamel grates, with a total cooking area of 160 square inches, and has a 5,500 BTU center burner. The most attractive quality that this grill has is that you can take it with you anywhere you want, but if you want to have a good Sunday in the comfort of your home, this gas grill is ideal, it is easy to use, easy to clean and store, its dimensions are 19 X 11.5 X 10 inches. It's also super lightweight, weighing just 17 pounds, making it easy to carry from one place to another. It has a 3-year warranty and all this for a price of $143.41
Royal Gourmet GT1001 Stainless Steel Portable Grill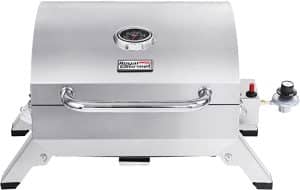 This portable grill is perfect for outdoor camping, deck and tailgating. It's made of durable stainless steel and comes with a removable nonstick grill plate. The single-plate design makes it easy to clean and maintain, so you can enjoy your time outdoors without worrying about any messes or dirt that may come with grilling.
It has a stainless steel tubular burner with 10,000 BTUs of pure heat power, which makes it heat up quickly and evenly, the grill grates are made of stainless steel and have a cooking area of 280 square inches, It has a temperature monitor, which allows you to have exact control of the heat inside your grill. There are no limits to what you can cook on this wonderful portable grill.
It also has folding legs that allow you to easily store the unit when not in use. Plus, thanks to its lockable lid feature, you'll be able to keep food warm while other guests arrive at your party or gathering!
Indoor Grill Electric Grill CUSIMAX Smokeless Grill Portable Korean BBQ Grill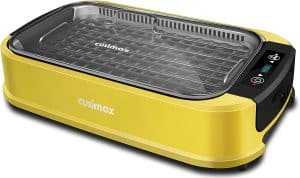 Now you are in front of one of the best-rated grills on amazon, The Indoor Grill Electric Grill CUSIMAX Smokeless Grill, people love this electric grill, it has a large cooking area, it has a transparent tempered glass lid that allows you to see how delicious your food looks inside it. What I like most about this grill is that you can avoid the annoying smoke produced by traditional grills because it has an integrated smoke extractor, no more watery eyes or coughing until exhaustion. add quality materials and you get the best electric barbecue you can buy. It's easy to clean up after yourself because the plate is dishwasher safe and removable for easy cleaning. You don't have to worry about burning your food since the non-stick surface means that things won't stick!
you can be sure this is a good option because it adapts to your needs.
Hamilton Beach Electric Indoor Searing Grill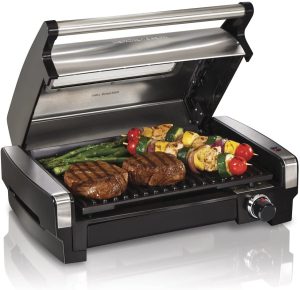 If you don't have the space for a full-size grill, this Hamilton Beach Electric Indoor Searing Grill is perfect for you. It comes with an extra large drip tray and a removable nonstick plate that makes cleaning a breeze. You can use it indoors or out. The removable lid allows you to easily add charcoal or wood chips if needed. has 188 square inches of surface area to grill your favorite foods, Plus, this grill is easy to clean because the inner grill hood, plate, and extra-large drip tray are removable and dishwasher safe.
The grill heats up quickly, so cooking time is reduced. With its easy-to-use features, all that's left for you to do is enjoy delicious mouthwatering food!
Chefman AccuGrill Smokeless Indoor Grill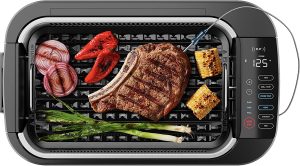 If you want to grill without the smoke and mess of burning charcoal, this is your best bet. The Chefman AccuGrill Smokeless Indoor Grill is perfect for those who love outdoor cooking but don't have the space outside their home (or apartment) for a full-sized grill. It features an integrated probe thermometer that allows you to cook meats perfectly every time by monitoring the internal temperature throughout grilling—no more guessing how long a piece of meat needs to cook! Plus, its nonstick grill plate makes clean-up easy so you can spend more time enjoying your meal with friends or family instead of being stuck at the sink scrubbing away crumbs and grease stains all night long.
The removable plate allows for easy cleaning between grilling sessions as well; just wipe off any remaining food particles with soap and warm water before storing them away until next time! This compact small grill has large enough dimensions (21,5 x 11,75 x 4,25 inches) that it doesn't feel crowded when used indoors on countertops or tables–but still small enough so it doesn't take up much space either!
Everdure CUBE Portable Charcoal Grill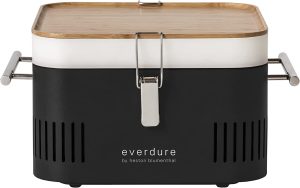 If you are a charcoal grill lover and don't have much space in your backyard or on your apartment balcony to have a full-size charcoal grill Everdure CUBE Portable Charcoal Grill is your best option: is the perfect grill for those who are looking for something lightweight and portable. Although it's not as big or heavy-duty as other grills on this list, it can still get the job done! The CUBE is also easy to clean and store because of its compact size.
It comes with a side prep board which makes cooking so simple! Just add your ingredients to the prep board, then just move it over to your grill and cook away! You don't even have to worry about cleaning up after yourself because all you have to do is wipe off any mess before storing it away in its carrying case. No more worrying about leaving burnt food behind after cooking—you can keep everything clean and ready to go whenever you need it again later on down the road when camping or tailgating outside during football season!
The best part? It's super lightweight–only 15.43 pounds–so no worries if someone knocks into it while transporting it around town! Whether you're going camping or just want something small enough not to take up too much space when storing inside at home without taking up too much space either way…you'll love having this handy little gadget around!!
Weber Smokey Joe 14-Inch Portable Grill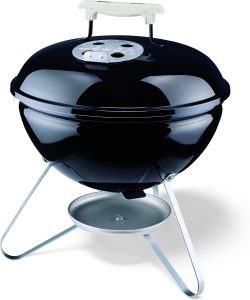 The Weber Smokey Joe 14-Inch Portable Grill, Black is a great grill for anyone who wants to have the convenience of an indoor grill, but doesn't want the hassle of cleaning up after it. It has a steel frame that makes it perfect for use indoors or out—you can place it on your patio table or even on the ground! It comes with two burners and a lid that locks in place so you have peace of mind while using this portable grill. You can store this baby in your closet (so handy when you're hosting small get-togethers), garage, shed…or even your car if you're going camping!
Weber Go-Anywhere Charcoal Grill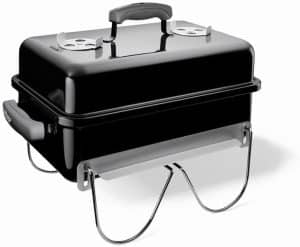 Portable, compact, and easy to clean, the Weber Go-Anywhere Charcoal Grill is the perfect tool for tailgating or impromptu backyard gatherings. This grill can be used indoors or out, so you can grill on your porch before dinner and then move it inside for dessert.
It's great if you've got limited space but still want some grilled food at home—the small size makes it easy to store away until next time! You can also use charcoal or wood chips with this grill, giving you options beyond just burgers and hot dogs (though those are excellent choices). It's versatile enough to cook almost anything: steaks, chicken breasts…even pizza! And don't forget about sauces—the low profile makes them easy to get down into every nook and cranny of whatever meat you're cooking without having extra grease drip down onto your countertops (or tablecloth).
Portable and indoor grills are great for those who do not have the space or energy to fire up a full-size grill
If you're the type of person who loves to grill but doesn't have much time or space to do so, a portable grill may be your ideal solution. They are great for camping trips, tailgating in the parking lot before a big game, or just using at home when you don't want to fire up your full-size propane grill. Some of these grills can even be used indoors!
If this sounds like what you need in life and/or cooking devices, here are our favorites:
We hope that with our list of the best portable and indoor grills, you'll be able to find one that suits your needs. We know how hard it is to decide on what type of grill would work best for you and your family! This can be especially tough when trying to decide between a small or large grill. What we want you all to remember is that no matter what size of grill or model type there are tons of options out there so never feel like there isn't anything else out there just waiting for someone like us!