Grilled Cajun Chicken is a classic dish, combining the spicy and flavorful Cajun spices to create a delicious, smoky flavor. This dish is perfect for summer barbecues and can be served with a variety of sides, from roasted potatoes to grilled vegetables. The best part is, it's super easy to make and only requires a few simple ingredients.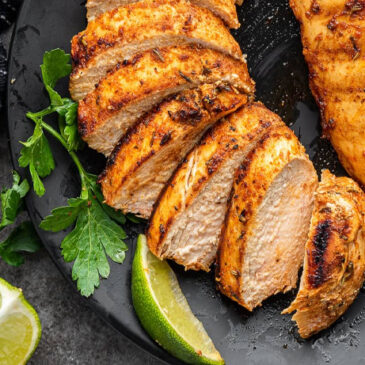 Grilled Cajun Chicken
The combination of Cajun spices and smoky grilled flavors make this dish truly special.
Ingredients  
4

boneless, skinless chicken breasts

2

tablespoons olive oil

2

tablespoons Cajun seasoning

2

teaspoon garlic powder

2

teaspoon onion powder

Salt and pepper to taste
Instructions 
Preheat the grill to medium heat.

In a small bowl, combine the olive oil, Cajun seasoning, garlic powder, onion powder, salt, and pepper.

Rub the mixture on the chicken and place it on the grill.

Grill the chicken for 8-10 minutes per side, or until it's cooked through.

Serve the Grilled Cajun Chicken with your favorite sides.
Nutrition
Calories:
160
kcal
Protein:
23
g
Fat:
7
g
Sodium:
260
mg