Travel to India while tasting the grilled curry chicken breast and enjoy the curry droplets on the grill. Curry powder originates from India and some references go back to England too. We started using it all over the world as a crucial ingredient that makes you drool! It has many health benefits that we will discuss later. But now let's enjoy preparing a simple yet delicious dish with mouthwatering and delightful chicken taste!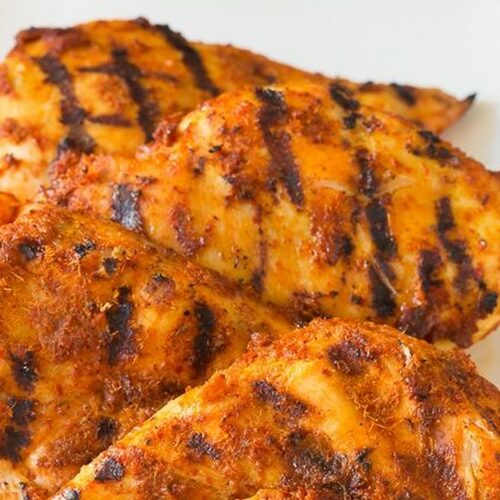 Grilled Curry Chicken Breast
Enjoy the Indian spices taste on the grill
3

Boneless chicken breasts

3

Garlic gloves

1

tsp

Black Pepper

1

tsp

salt

1

tbsp

mustard

1

tbsp

curry powder

2

tbsp

vegetable oil

1

tbsp

Honey(Optional)
Prepare the BBQ to medium heat

In a large bowl, mix the liquid ingredient: Mustard and oil withthe dry ingredients aside: salt, pepper, curry, garlic.

  Add the chicken breasts and mix them well , so the sauce is absorbed by the chicken

Marinate the chicken for 10 minutes to enjoy a better taste

Place the breasts on the grill

When you notice that the chicken is starting to be grilled well,brush it with a little bit of honey (if you like)

Grill well and make sure you don't have raw spots left to avoid anybacterial infection
Nutritional Info about the plate
Curry powder is a mix of different spices one of them is turmeric that gives the curry powder a yellow color. This ingredient improves the overall health
It improves digestion by enhancing good bacteria in the gut
It prevents cancer
It improves blood sugar levels and is very good for diabetics as well.
Note: Don't forget that chicken is a very good source of protein that will increase satiety and make you feel full for a longer period of time.