Usually, people think that teriyaki sauce goes back to the Japanese tradition, however, it is not like that. Initially, Japanese people used to mix the pineapple juice with the soy sauce to have this dark sauce, but in fact, Teriyaki sauce is an American tradition( Hawaiian in specific). So in this dish, you are going to mix both the American and Japanese traditions using the Hawaiian sauce and the pineapple. Check out below the detailed recipe with notes to be taken into consideration.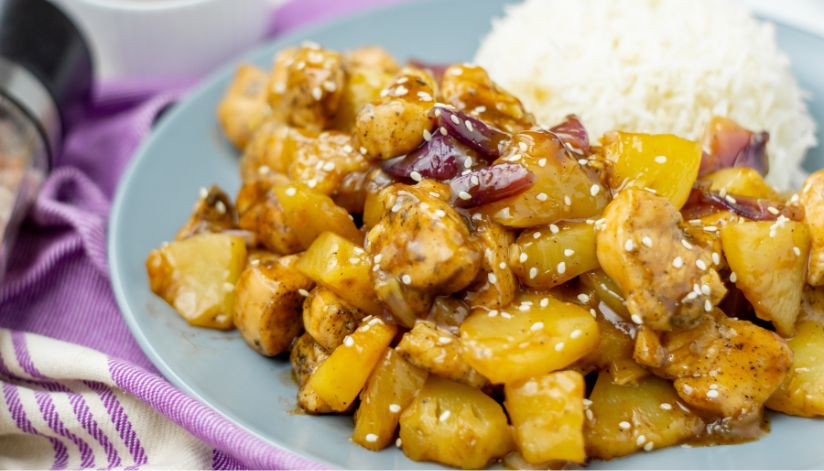 Grilled Teriyaki Chicken with Pineapple
A mix of Hawaiian taste with Japanese flavors that will fascinate you!
Ingredients
For the chicken
2

Boneless chicken breasts

1/2

Medium Pineapple

3

Onions

1

tsp

Salt

1

tsp

Black pepper

1

tbsp

Sesame seed
For the white rice
1.5

Cups

White Rice

1

tbsp

Salt

1

tbsp

Vegetable Oil
For the Teriyaki sauce
1/4

Cup

Soy sauce

1/4

Cup

Water

2

tbsp

Corn starch

3

tbsp

Honey

2

tbsp

White vinegar

2

tbsp

Pineapple Juice

2

Garlic Cloves
Instructions
For the Chicken
Preheat the grill to high heat

Cut the chicken breast into cubes on the chicken cutting board

Cut the pineapple, onions into cubes on the vegetables cutting board

Add pepper and salt to the chicken and set aside
For the teriyaki sauce
Add all the needed ingredients( check them above) into a saucepan

Put the pan on medium flame and stir until the mixture is thickened( for about 10 minutes)
For grilling process
Grill the chicken with pineapple and onions on both sides

Make sure you brush them with teriyaki sauce also on both sides
For the white rice
Using the cooking pot add the oil on a medium flame

Add the white rice with the salt and cover it up with water
Serving
Serve the chicken with white rice and sprinkle sesame seed on top
Notes
Nutrition Facts about this plate:
– Chicken breasts are a good source of proteins that make you feel full faster( Some people cook this plate with thighs but i prefer breast because it has lower fat %)
– Pineapples are full of water and fibers which is good for a better digestion
– You can replace white rice with brown rice for more fibers Regarding food safety:
-I prefer you separate the cutting boards that you are using, so use one for raw meat/chicken and one for vegetables to avoid contamination or any bacterial infection
– NEVER wash your meat or chicken before cooking to avoid bacterial contamination
– ALWAYS wash your vegetables with vinegar and salt.
Nutrition