Teriyaki is one of the most used sauces in the Japanese Cuisine and it is usually combined with chicken to give that mouthwatering taste. In this Recipe you are going to taste the Chicken with a sweet and sour touch, it is an easy recipe yet very delicious, so let's do it together .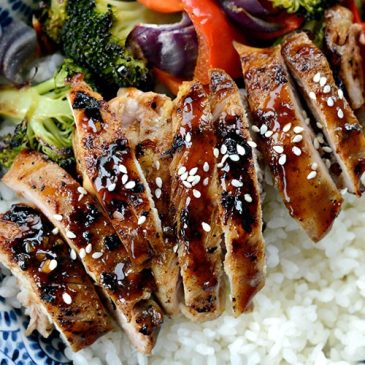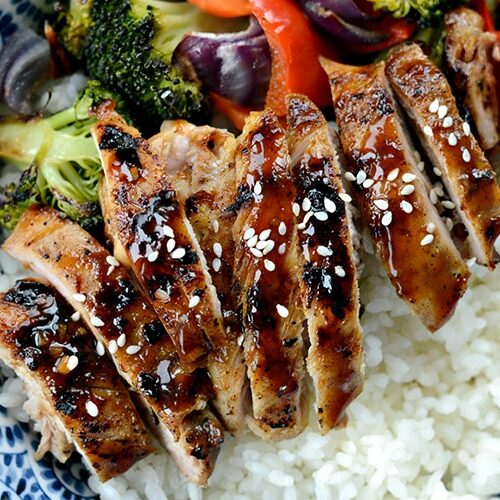 Japanese Grilled Teriyaki Bowl
You are going to taste teriyaki differently in this bowl, with a sweet and sour touch and a little bit of cucumber
Ingredients  
For the teriyaki chicken
1

kg

Boneless, skinless chicken thighs

1/2

Kg

Mushroom

1/4

Cup

Soy Sauce

2

Tsp

Ginger

1

Cup

White Rice

2

Cups

Water
For the cucumber ribbon salad
1

Large Cucumber

1/4

Cup

Rice Vinegar

1

tsp

Honey

1/4

tsp

Salt

1

tbsp

Sesame Seeds

1

Avocado: For garnish
Instructions 
Place the chicken in a Ziploc bag with the soy sauce, ginger and marinate for around 12 hours for a better taste

Cook the rice in a cooking pot and let it simmer for around 20 minutes

Preheat the grill to medium heat

Prepare the cucumber ribbon salad by peeling the cucumber like strips and adding rice vinegar, salt, sugar and sesame seed. You can whisk the ingredients aside and then add them to the bowl

Slice the avocados for garnish

Grill the chicken on medium heat

Place chicken, rice and cucumber salad in a small bowl and garnish with avocado and sesame seed
Notes
Nutritional Info About the Plate
Chicken is a very good source of proteins that are extremely needed by the body and will make you feel full faster so you don't eat extra calories. Ask for the teriyaki sauce it is not unhealthy but at the same time it is better not to use it frequently because it has high sugar and salt content which are harmful for the body.
Regarding sesame seeds and avocados they are a source of good fat and a source of fiber too, but also make sure not to exceed the limit in consuming them because they are very high in calories.