This Asian-style grilled burger is very unique because it is simply doesn't contain meat as the traditional burger, it is all about Umami taste with an Asian touch. This recipe is loaded with health benefits and is very low in calories if your goal is to watch out your weight. You are going to taste your burger differently by adding the Avo-touch to the grilled mushroom that you will never differentiate it's flavor from that of meat.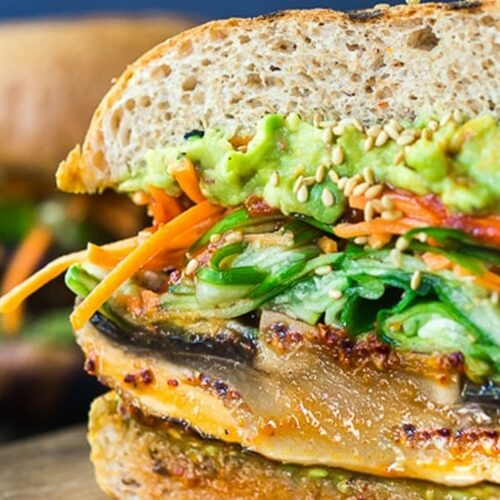 Spicy Miso Mushroom Burger
In this Recipe, you are going to try the burger differently with a mouthwatering Umami taste
4

Large

Mushrooms

1

tbsp

Miso

1

tbsp

Sesame Oil

1

tbsp

Sriracha

Salt and Pepper

4

Whole Wheat Burger Bun
For the cucumber ribbon salad
2

Large Cucumbers

2

Green Onion strips

1/4

tsp

Salt

1/4

tsp

Sugar

2

tsps

Rice Vinegar

1/2

tsp

Sesame Seeds
For the carrot slaw
1

Cup

Grated Carrots

1/4

tsp

Salt

1/4

tsp

Sugar

1/2

tsp

sesame seeds

2

tbsp

Rice vinegar
Preheat the Grill to medium heat

Whisk together miso, sriracha, salt, pepper and sesame oil. Then brush the mushrooms with this mix

Using the vegetable peeler, peel the cucumber into strips and in a small bowl mix all the ribbon salad ingredients together

Using the same peeler, peel the carrots into strips and in another bowl mix the ingredients of the carrot slaw together

Prepare the Asian guacamole in a separate bowl by adding all the ingredients

Grill the mushroom for about 4-5 minutes on medium heat on the grill, then grill the buns

Assemble the burgers by spreading the guacamole sauce, mushroom on top, cucumber and carrot salad then a little bit of sriracha and sesame seeds
Nutritional Info about the plate
This recipe is rich in nutrients, it is a vegan recipe because it doesn't contain any animal product. 
First of all we used the whole wheat burgers for more fibers and vitamins that are essential for good digestion.
Second we used the guacamole sauce that is based on avocados that are a great source of good fats which are heart friendly
Third we used lots of vegetables that will ad more and more fibers to the plate
Fourth we used the main component which is mushroom, this kind of vegetables is rich in antioxidants and has an amazing famous taste called the Umami taste that looks like the taste of grilled meat.
What is different in this burger is that it can be consumed by vegans and vegetarians because it doesn't contain meat, and we got out of the box from having the traditional burger.