This easy-to-make recipe starts with marinating the chicken in a mixture of olive oil, garlic, herbs, and spices. After marinating, the chicken is grilled to perfection, giving it a juicy and succulent flavor. The roasted red pepper sauce is made by blending roasted red peppers and onions with a touch of garlic, herbs, and spices. This simple sauce is the perfect complement to the grilled chicken.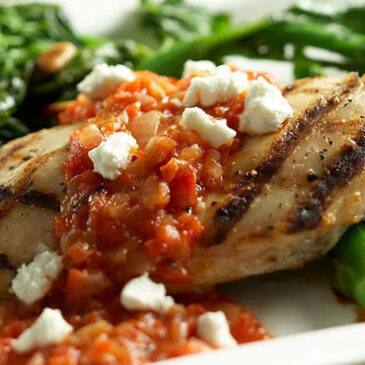 Grilled Chicken with Roasted Red Pepper Sauce
Summer is here and it's time to fire up the grill! Grilled chicken is a great way to enjoy a delicious, healthy meal. 
Ingredients
4

boneless, skinless chicken breasts

2

tablespoons olive oil

1

tablespoon garlic, minced

1

teaspoon dried oregano

1

teaspoon dried basil

1

red bell pepper, roasted

1

onion, diced

Salt and pepper to taste
Instructions
 In a bowl, combine olive oil, garlic, oregano, basil, salt, and pepper. Add the chicken breasts and turn to coat. Cover and let marinate in the refrigerator for at least 30 minutes.

Preheat grill to medium-high heat. Grill chicken for 5-7 minutes per side, or until cooked through.

Meanwhile, in a food processor, combine the roasted red pepper, onion, garlic, oregano, basil, salt, and pepper. Process until smooth.

Serve grilled chicken with the roasted red pepper sauce.
Nutrition
Calories:
230
kcal
Carbohydrates:
6
g
Protein:
27
g
Fat:
7.5
g