Summer is in full swing, and it's the perfect time to fire up the grill and enjoy the warm weather with a delicious meal. If you're looking for a side dish that's sure to please, try making this recipe for grilled sweet potatoes with honey-lime glaze. Sweet potatoes are a nutritious and versatile ingredient, and when glazed with a combination of honey and lime, they become a truly delicious treat. This easy-to-make side dish is sure to become a regular feature at your summer barbecues.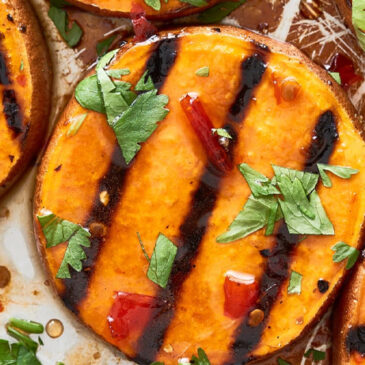 Grilled Sweet Potatoes with Honey-Lime Glaze
The sweet potatoes become tender and caramelized on the grill, and the honey-lime glaze adds a delicious hint of sweetness
Ingredients
4

sweet potatoes, peeled and sliced into 1-inch rounds

¼

cup olive oil

¼

cup honey

2

tablespoons freshly squeezed lime juice

2

tablespoons chopped fresh thyme

salt and pepper to taste
Instructions
Preheat your grill to medium-high heat.

In a large bowl, combine the sweet potatoes, olive oil, honey, lime juice, thyme, salt, and pepper. Mix until the sweet potatoes are completely coated.

Place the sweet potatoes on the preheated grill and cook for 10-15 minutes, flipping once, until they are tender and lightly charred.

Serve the grilled sweet potatoes with a generous drizzle of honey-lime glaze and enjoy!
Nutrition
Calories:
209
kcal
Carbohydrates:
30
g
Protein:
2
g
Fat:
9
g