When you hear the word "Pesto" you can't but imagine that you are eating a delicious meal in Italy. It is a very famous Italian sauce that was made initially to be added to the pasta, it means "to crush" since all the ingredients are crushed with an old machine together, but in this article, you are going to taste it differently on Shrimps! Enjoy the taste of the sea creatures with an Italian touch.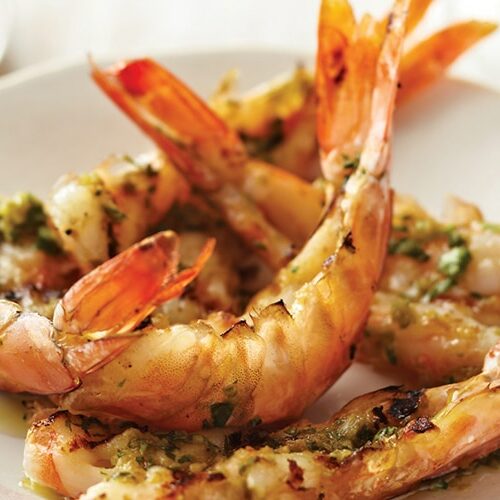 Grilled Jumbo Shrimp with Pesto
A seafood dish with a touch of the Italian flavor
For the shrimps
1

Kg

Peeled Jumbo Shrimps

1

tbsp

Sea Salt

1

tsp

Black Pepper

Pinch

of Chili Flakes

2

tbsp

Olive Oil
For the pesto sauce
1/2

cup

Olive Oil

2

Garlic Cloves

1/4

cup

Pine Nuts

1

Lemon

1

cup

Fresh Basel

1/2

cup

Parmesan Cheese

Salt and Pepper
For the shrimps
Mix the shrimps with the pepper, salt, chili flakes and olive oil

Place the shrimp on the grill after preheating it on medium heat
For the pesto sauce
Turn the heat on a medium flame

Add the olive oil with the garlic and the pine nuts in a pan, but make sure not toburn the garlic

 Pour the mix in another small bowl then add the lemon juice

Chop the Basel into small pieces and keep it aside with the cheese

Stir the hot shrimps with the mixture you did above, then add the Basel

 Sprinkle the cheese on top when you finish and serve it.
Nutritional Info of this plate
This plate is a rich plate that fights diseases because of the antioxidants found in its ingredients
Shrimps are a source of antioxidants that prevent your body from diseases
Basel is a source of antioxidants like beta carotene
Olive oil is a great source of good fats that are good for your heart and much better than any other plant oil