Beef tenderloin is an expensive beef cut that is preferred by many people. The reason behind the high price of this special cut is that it doesn't contain too much of connective tissues. This characteristic will add more tenderness to the meat and will makes it more and more flavorful. Try the following recipe with simple ingredients and easy steps to get out the most delicious taste of meat.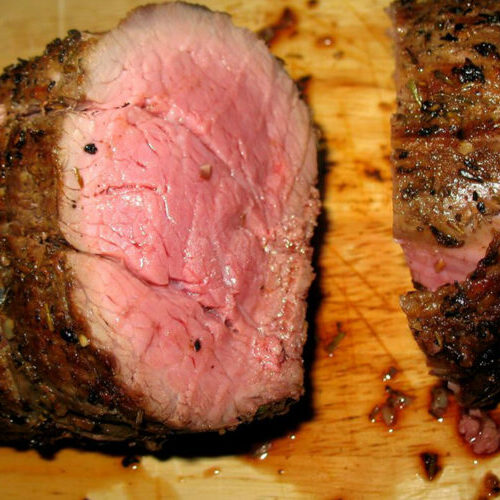 Grilled Tenderloin Steak
A tender and soft taste of meat with the charcoal effect
5

lbs

Beef Tenderloin Steak

6

tbsp

Olive Oil

8

Garlic Cloves

2

tbsp

Minced Rosemary

1

tbsp

Dried Thyme Leaves

2

tbsp

Ground Pepper

1

tbsp

Salt
Trim off excess fat from the meat with a sharp knife.

In a small bowl, mix garlic, rosemary, thyme, salt and pepper.

Rub the mixture over the meat to coat. Set meat aside

Place beef on hot rack and close lid; grill for about 5 minutes. Turn meat and close lid; grill until well-seared on second side, another 5 minutes.

Move meat to the charcoal grill's cool side.

Cook until a meat thermometer inserted in the thickest section registers 130 degrees for rosy pink, 45 to 60 minutes.

Let meat rest 15 minutes before serving. Serve on a serving platter.
Tenderloin steak is very rich in proteins which makes you feel full if you are following a special diet. It is also very yummy and tender because of the low content of connective tissues. 
Serving:
1
g
Sodium:
599
mg
Calcium:
25
mg
Vitamin C:
1.4
mg
Vitamin A:
23
IU
Fiber:
0.5
g
Potassium:
409
mg
Cholesterol:
89
mg
Calories:
360
kcal
Saturated Fat:
9
g
Fat:
27
g
Protein:
26
g
Carbohydrates:
2
g
Iron:
4
mg