Chicken thighs are considered the most flavorful chicken parts because they are rich in fat. Grilling them is not that complicated but still, you need to know how to grill them perfectly.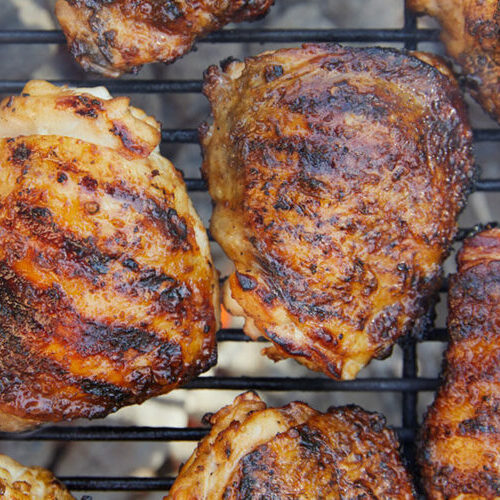 Grilled Chicken Thighs
A flavorful recipe with special seasonings.
Place the chicken thighs on a large plate and sprinkle with salt and pepper on all sides.

Refrigerate the chicken thighs for 1 hour. 

In a medium saucepan, melt the butter.  

Add the vinegar, honey, and garlic and mix until the honey has dissolved. Sprinkle with salt and pepper.

Preheat grill to medium high and oil the grates with canola oil.

Add the chicken with the sauce and grill for 10 minutes each side.

Serve on a serving platter and garnish with chives, lemon and parsley.
Chicken thighs are very fatty compared to chicken breast, so if you want to have the plate less fatty you can grill the thighs without the skin.
Serving:
1
g
Sodium:
498
mg
Calcium:
20
mg
Vitamin C:
1
mg
Vitamin A:
54
IU
Sugar:
4
g
Fiber:
1
g
Potassium:
565
mg
Cholesterol:
215
mg
Calories:
385
kcal
Saturated Fat:
4
g
Fat:
20
g
Protein:
44
g
Carbohydrates:
5
g
Iron:
2
mg