Pineapple is a very famous fruit that originates from South America. This fruit is appealing by many people who desire it in sweet and sour foods. Many people uses pineapple in cooking, it gives a very weird and unique taste like in sweet and sour chicken. But in this recipe, you are going to try the pineapple as a dessert.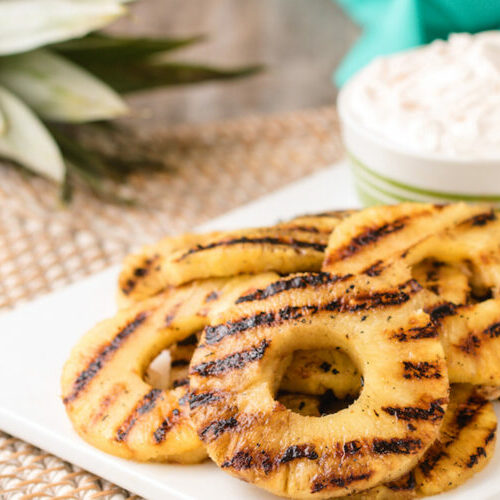 Grilled Pineapple with Greek Yogurt
What about mixing the sweet and sour taste with one dessert?
Put the pineapple slices in a shallow bowl.

Mix the ginger, lemon juice and sugar together and pour them above the pineapple.

Cover the pineapples and marinate them for about 2 hours.

Add the remaining sugar with mint leaves in a food processor.

Drain the marinated pineapples and keep the marinate aside.

Preheat the grill and grill the pineapple 2 minutes each side.

Stir using a spatula 3 tblespoons of the marinade into the Greek yogurt and sweeten with extra sugar if desired.

Sprinkle grilled pineapple with mint sugar and serve with yogurt on a serving platter.
Pineapple is a great source of antioxidants and fibers. It is loaded with nutrients that are essential for a healthy body like vitamin C that is essential for good immunity and vitamin B that is needed for DNA and nervous system.
Serving:
1
g
Sodium:
24.4
mg
Calcium:
45
mg
Vitamin C:
43
mg
Vitamin A:
78
IU
Sugar:
31
g
Fiber:
3
g
Potassium:
244
mg
Cholesterol:
7.5
mg
Calories:
174
kcal
Saturated Fat:
1.7
g
Fat:
3.6
g
Protein:
3
g
Carbohydrates:
37
g
Iron:
0.7
mg