This recipe for Grilled Trout with Lemon-Butter sauce is easy to make, and uses only a few ingredients. The trout is marinated in a mixture of olive oil, garlic, and herbs before being grilled to perfection. The lemon-butter sauce is made by combining melted butter and freshly squeezed lemon juice, and is then poured over the grilled fish. This dish can be served as a main course for a summer meal, or as an appetizer for a special occasion. Not only is this dish delicious, but it is also incredibly nutritious.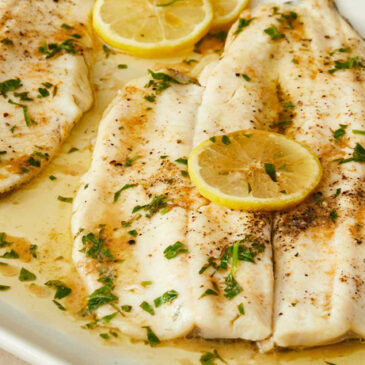 Grilled trout with lemon-butter sauce
The combination of the crisp and flaky trout, with the tangy and buttery lemon-butter sauce, makes for a delicious and flavorful meal.
Ingredients
4

trout fillets

2

tablespoons olive oil

1

clove garlic, minced

1

teaspoon dried parsley

1

teaspoon dried oregano

2

tablespoons butter

2

tablespoons freshly squeezed lemon juice

Salt and pepper to taste
Instructions
In a mixing bowl, combine the olive oil, minced garlic, parsley, oregano, salt, and pepper. Add the trout fillets and toss to coat. Cover and refrigerate for at least 30 minutes.

Preheat a grill to medium-high heat.

Grill the trout fillets for 4-5 minutes per side, or until cooked through.

Meanwhile, in a small saucepan, melt the butter over medium heat. Add the lemon juice and stir to combine.

Serve the grilled trout with the lemon-butter sauce.
Nutrition
Calories:
180
kcal
Carbohydrates:
1
g
Protein:
21
g
Fat:
11
g