Tuna steaks are one of the most popular seafood dishes, and with good reason. They are a healthy, flavorful, and versatile option that can be cooked in a variety of ways. One of our favorite methods is grilling them with a flavorful ginger-soy glaze. The glaze adds a delicious sweetness and a savory umami flavor, and the grilling adds a nice char and smoky flavor. This dish is perfect for a summer cookout or a weeknight dinner.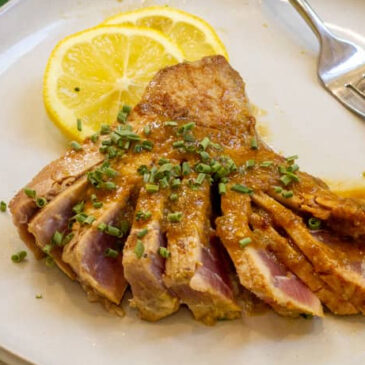 Grilled Tuna Steaks with Ginger-Soy Glaze
This recipe is easy to make and can be ready to serve in just a few minutes. Plus, it's low-carb, high in protein, and low in calories, making it a healthy option.
Ingredients
2

tuna steaks

2

tablespoons fresh ginger, grated

2

tablespoons soy sauce

2

cloves garlic, minced

1

teaspoons sesame oil

1

tablespoons olive oil

2

tablespoons honey

Salt and pepper, to taste
Instructions
In a shallow bowl, combine the ginger, soy sauce, garlic, and sesame oil.

Add the tuna steaks to the bowl and toss to coat. Let marinate for at least 30 minutes.

Heat a grill to medium-high heat and lightly brush the tuna steaks with olive oil.

Place the tuna steaks on the grill and cook for 3-5 minutes per side, or until desired doneness.

In a small bowl, combine the honey, salt, and pepper.

Remove the tuna steaks from the grill and brush with the honey mixture.

Serve with your favorite sides. Enjoy!
Nutrition
Calories:
223
kcal
Carbohydrates:
7
g
Protein:
28
g
Fat:
11
g