In this recipe you are going to taste the perfect combo of vegetables and beef on the gill. This Combo is super delicious and super healthy, but make sure to use the exact sauce mixture because at the end of the day it is all about the sauce you are tossing your ingredients in. Let's try this recipe together.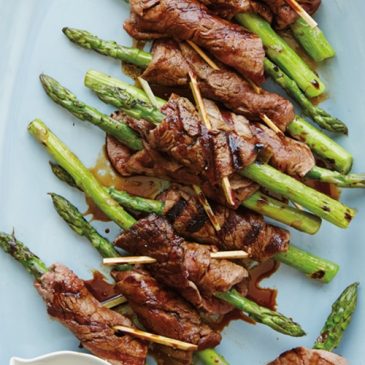 Grilled Beef and Asparagus
Combining Vegetables and beef on the grill is the most delicious touch you can do.
Ingredients  
1/3

Cup

Soy Sauce

1/3

Cup

Rice Vinegar

2

tsp

Sesame Oil

3

tsps

Sesame Seeds

1/2

Kg

Flank Steak

1/2

kg

Asparagus

8

Green Onion Strips

1

tbsp

Olive Oil
Instructions 
Whisk in a medium bowl the: soy sauce, rice vinegar, sesame oil and sesame seeds together. Transfer half of the amount to a measuring cup

Cut the steak into strips, dip it in the mixture and leave it for about 15 minutes.

Heat the grill to medium heat

Trim the green onions and asparagus into strips and dip both of them in olive oil.

Take strip of steak, place 1 green onion strip quarter and 1 asparagus stalk perpendicular.

Roll the steak and secure it with a toothpick through the vegetables.

Cover the grill ,grill the meat with the veggies until lightly charred about 2 minutes per side

Remove the toothpicks and serve the plate with a sprinkle of sesame seeds on top
Notes
Nutritional Info about the plate
Asparagus is a great source of fibers that aid in digestion, it is also a source of folic acid which is highly recommended to be consumed by pregnant women to prevent any abnormalities in the fetal development. 
The flank steak is rich in B vitamins which are important for a healthy nervous system in addition to minerals such as zinc and selenium