Lobster tail is known as an expensive seafood but at the same time it is very easy to prepare. The secret ingredient in the following recipe is the melted butter. Try this recipe with a very short period of time.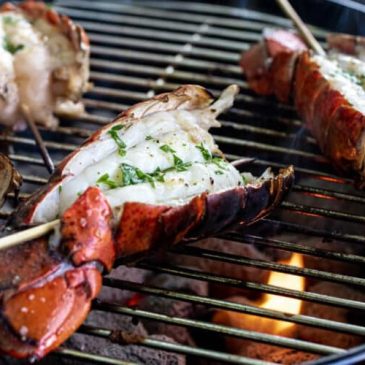 Grilled Lobster Tail
An easy and special recipe
Ingredients
1/4

Cup

Melted Butter

1

tbsp

lemon Juice

1/2

tsp

Lemon Zest

2

tbsp

Chopped Parsley

1

Garlic Clove

1/4

tsp

Salt

4

Lobster Tails

Olive Oil for brushing

Ground Pepper

Red Pepper Flakes

Lemon Wedges for garnish
Instructions
Preheat a grill or grill pan over medium heat. In a small bowl, whisk together melted butter, lemon juice, zest, chives, parsley, garlic, and salt.

Using kitchen shears, cut top of lobster shell from meaty portion of tail. Using a knife, cut halfway through meat down the center, without cutting all the way through.

Insert a skewer lengthwise through the lobster to keep lobster from curling up when cooked.

Brush all over with oil and season with salt and pepper. Grill flesh side down until lightly charred, about 6 minutes.

Flip lobster and dollop a spoonful of butter mixture on flesh side. Grill until just cooked through, about 5 minutes more.

Remove lobster from grill and sprinkle with red pepper flakes. Serve with lemon wedges.