In this recipe , we will combine tomatoes with avocados to do the fresh salsa that we are going to use with fish . To have the crispiest salmon make sure your grill grates are cleaned well without any debris and the grill is preheated for at least 15 minutes before placing the salmon . Avocado adds creaminess and healthy fats for the body. Let's try the recipe together.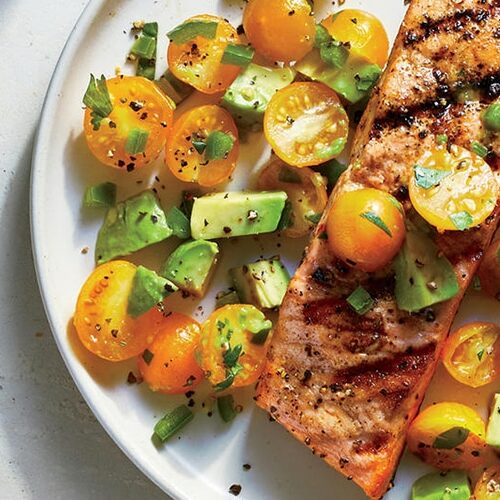 Grilled Salmon with Avocado Salsa
Try the Crispiest Fish with an Asian Touch
2

Cups

Chopped Avocado

1

Cup

Cherry Tomatoes

2

tbsp

Fresh Cilantro

1

tsp

Lime Juice

1

tsp

Salt

1

tbsp

Black Pepper

1

tbsp

Olive Oil

4

Salmon Fillets
Preheat the grill to medium heat

Combine avocado, tomatoes, and cilantro in a medium bowl

Whisk together salt and pepper and then coat the avocados with the mixture

Brush Olive Oil on both sides of salmon with salt and pepper

Place salmon on the grill until it is opaque and grill it 3 minutes per side

Serve the salmon on serving platter with the salsa on top
Nutritional Info about the plate
Salmon is a great source of omega-3 fatty acids that are very essential for a healthy nervous system and brain. It is very safe to be consumed by all people including pregnant women.
Avocado is a source of good fats and potassium.