When it comes to simple recipes, you might think that the recipe is not delicious. In the case of the following recipe, you will follow simple steps and you will be adding the cajun spice which is super yummy and spicy. This seasoning adds lot of flavor to the dish you are preparing because it is a mix of different delicious spices.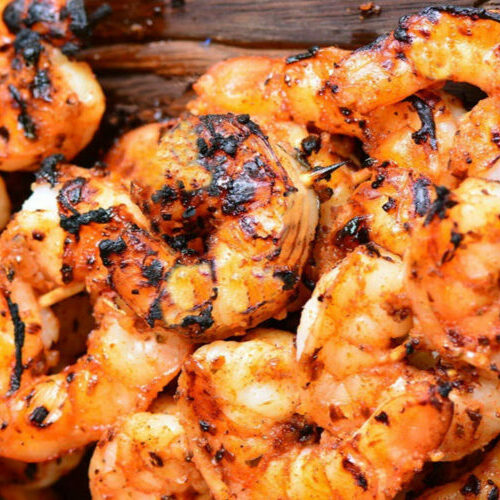 Cajun Grilled Shrimps
A spicy and yummy shrimp recipe.
1

lb

Large Shrimp

1

tbsp

Extra Version Olive Oil

1

tbsp

Cajun Seasoning

1

Lemon

Grilled Peppers
Thaw the shrimps .Then pat the shrimp dry.

Preheat a grill to medium-high heat.

Place the shrimp in a bowl and add the olive oil and Cajun seasoning.

Place directly on a grill and grill 1 to 2 minutes per side.

Remove from the grill and squeeze on fresh lemon juice from several wedges of the lemon, to taste. Serve on a serving platter
Serving:
1
g
Calories:
163
kcal
Carbohydrates:
3
g
Protein:
25
g
Fat:
6
g
Saturated Fat:
1
g
Cholesterol:
230
mg
Sodium:
585
mg
Potassium:
258
mg
Fiber:
1
g
Sugar:
0.1
g
Vitamin A:
534
IU
Vitamin C:
17.9
mg
Calcium:
59
mg
Iron:
4
mg
Cajun Grilled Shrimp Recipe
Try simple yet super delicious shrimp recipe with simple touch
3

Green Onions

2

tbsp

Lemon Juice

1

tbsp

Olive Oil

3

Garlic Gloves

2

tsp

Paprika

1

tsp

Salt

1/4

tsp

Pepper

2

Pounds

Uncooked medium shrimps

4

Medium lemons
In a large shallow dish, mix the first 8 ingredients together: Chopped green onion, Lemon juice, olive oil , garlic,paprika, salt,pepper and cayenne pepper.

Add the shrimps to the mix you've prepared, coat it well and refrigirate for 15 minutes

Drain the shrimps and put the shrimps with the lemon wedges in wooden skewers.

Grill the skewers while covered over medium heat, turn them once for 6-8 minutes

Serve the shrimps on a serving platter
This plate is very suitable for diabetics because it is very low in simple carbohydrates, and also it is very beneficial for people on a diet who want to control their satiety because also it is rich in proteins which keep you feel full for a longer period of time. 
Never forget that you didn't use oil so it is better for your health and also for your caloric intake. 
Serving:
2
Skewers
Calories:
168
kcal
Carbohydrates:
7
g
Protein:
25
g
Fat:
5
g
Saturated Fat:
1
g
Cholesterol:
184
mg
Sodium:
575
mg