The sirloin steak is first marinated in a mix of garlic, olive oil, and herbs. This helps to tenderize the steak and add flavor. The steak is then grilled to your desired level of doneness, while the balsamic glaze is prepared with a mix of balsamic vinegar, honey, and spices. The glaze is then brushed onto the steak to create a sweet and tangy coating that pairs perfectly with the steak. This will please everyone in your family. It's quick and easy to make, and the combination of flavors is out of this world. Serve it along with your favorite sides, and you'll have a delicious meal in no time.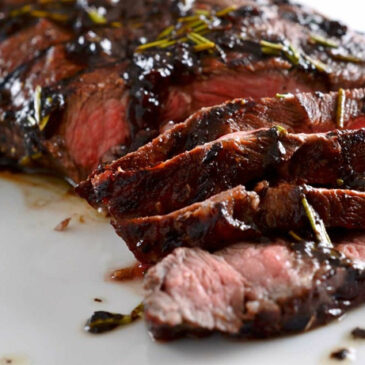 Grilled Sirloin Steak with Balsamic Glaze
the balsamic glaze adds a sweet and tangy flavor to the steak, and the sirloin cut ensures that it's tender and juicy
Ingredients
1

lb sirloin steak

2

cloves garlic, minced

2

tablespoons olive oil

2

tablespoons chopped fresh herbs (thyme, rosemary, oregano, etc.)

¼

cup balsamic vinegar

2

tablespoons honey

1

teaspoon garlic powder

½

teaspoon onion powder

½

teaspoon dried oregano

½

teaspoon dried thyme

¼

teaspoon black pepper

salt and pepper to taste
Instructions
In a large bowl, combine the garlic, olive oil, herbs, salt and pepper. Add the steak and let marinate for 30 minutes.

Heat a grill to medium-high heat. Grill the steak for 4-5 minutes per side, or until cooked to your desired doneness.

. Meanwhile, in a small saucepan, combine the balsamic vinegar, honey, garlic powder, onion powder, oregano, thyme, and black pepper. Bring to a simmer and cook until the sauce has reduced by half.

Remove the steak from the grill and brush with the balsamic glaze. Serve with your favorite sides. Enjoy!
Nutrition
Calories:
440
kcal
Carbohydrates:
15
g
Protein:
40
g
Fat:
22
g
Sodium:
210
mg