Grilling vegetables is one of the healthiest methods of cooking because you will be preserving all the nutrients and vitamins. By grilling veggies you will also release the best flavor out of them especially if you follow the exact time for each and every kind so you don't over cook them or burn them. In this recipe we are going to grill the best kinds of veggies, let's prepare them together.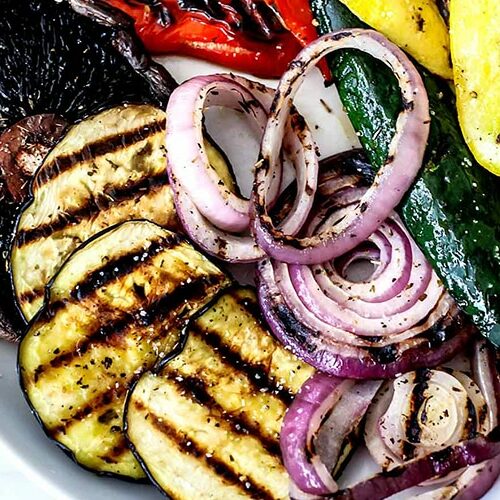 Grilled Vegetables
You are going to taste a mouthwatering flavor with the touch of the sauce we'll be preparing.
3

Red Peppers

3

Yellow Squash

3

Zucchini

3

Eggplants

12

Mushrooms

1

Bunch of Asparagus

12

Green Onions

1/4

Cup

Olive Oil

Salt and Black Pepper

3

tbsp

Balsamic Vinegar

2

Garlic Cloves

1

tsp

Chopped Parsley

1

tsp

Chopped Basil
Preheat the grill to medium heat

Wash the vegetables and cut them

Brush the vegetables with olive oil and sprinkle them with salt and pepper

Grilled the vegetables until tender, watch out the time for each kind like 8 minutes for pepper, 7 minutes for zucchini and eggplants, 4 minutes for asparagus and onion

Whisk the oil, balsamic vinegar, garlic, parsley, basil, and rosemary in a small bowl

Sprinkle the herbs on top of veggies with the above sauce and serve them on the serving platter
Nutritional Info about the plate
This plate is super rich in fibers and vitamins because it is all about vegetables, make sure to grill the veggies unpeeled to benefit from more and more fibers. 
It is low in calories because most of the veggies used are low in calories but also make sure not to overdo it with oil so you don't add extra useless calories to your plate