When it comes to vegetables people think that the recipe will be boring and not different, but in cooking there is nothing boring as long as you are creating special flavors every time you cook. In this recipe you are going to try carrots differently on the grill, by having a special and tasty sauce with the healthiest fat option " Avocados".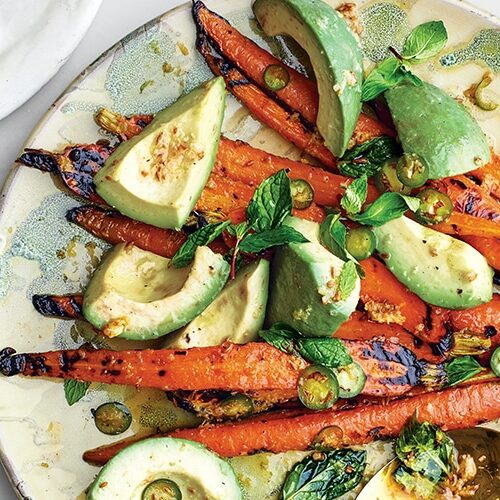 Grilled Carrots with Avocado
Who said that if you grill veggies it is going to be boring, try this unique and delicious recipe.
1

tsp

Cumin Seeds

3

tbsp

Fresh Lemon Juice

2

tsp

Honey

1/4

Cup

Olive Oil

1

Piece of chopped ginger

Salt

1/2

kg

Carrots

2

Avocados

1/2

Cup

Mint Leaves
Preheat the grill into medium heat

Toast the cumin seeds on medium heat about 2 minutes

Crush the cumin seeds with the knife and transfer to a large bowl

Add lemon juice and honey to the bowl

Whisk the ingredients with oil, ginger and salt

Toss the carrots with oil and salt on the grill and when done add them to the bowl

Serve the carrots with chopped avocados on top and remaining sauce
Nutritional Info about the plate
Carrots are a great source of beta carotene which is needed for a proper and healthy vision. They also contain fibers and antioxidants that prevent the body from diseases such as cancer.
Avocados are a source of heart-healthy fats that help in lowering cholesterol, it is also rich in vitamin E that is essential for bright skin and for eyes health.
This plate is full of fibers from all ingredients, so it is very good for the digestive system and the good bacteria in the gut