Grilling Bananas gives you an exotic texture and flavor, the char effect on the banana make sit super delicious. In this recipe, you are going to mix the banana pudding with the ice-cream on the grill. The recipe is very easy with simple steps.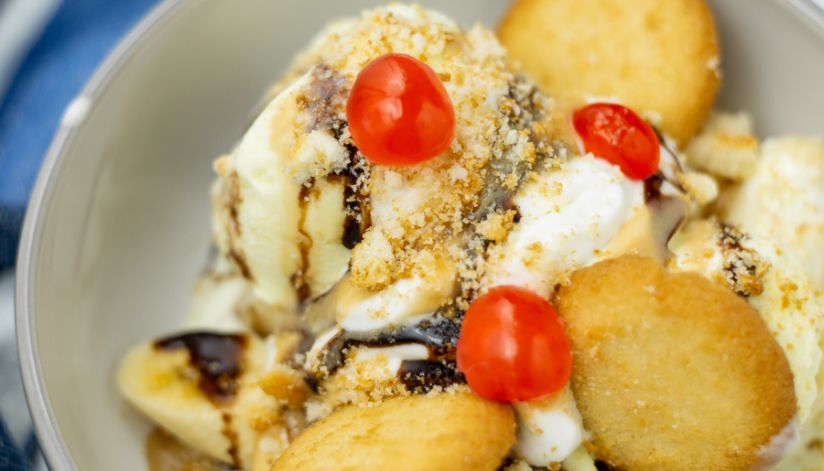 Grilled Banana Split
Enjoy the taste of Bananas on the grill with a mix between hot and cold textures.
Ingredients
4

Large

Ripe Bananas

1

Cup

Vanilla Wafers

3

Cups

Banana Flavored ice-cream

1

Cup

Whipped topping

3

tbsp

Caramel Sauce

3

tbsp

Chocolate Sauce

4

Cherries
Instructions
Preheat grill to medium-high

Make a long cut through the skin on the concave side of each banana, and pull the peel.

Grill the bananas uncovered, until banana is warmed through and peel is mostly black, about 10 minutes.

Remove bananas; set aside. Add vanilla wafers to basket, and grill until cookies get slightly charred, about 1 minute.

Divide ice cream evenly among 4 bowls. Peel bananas, and cut each diagonally into 5 pieces.

Top ice cream with bananas, whipped topping, caramel sauce, and chocolate sauce. Break up vanilla wafers, and sprinkle over bowls. Garnish with cherries.
Nutrition
Serving:
1
Banana
Calories:
130
kcal
Carbohydrates:
33.3
g
Protein:
1.82
g
Fat:
0.45
g
Cholesterol:
1.39
mg
Sodium:
3.29
mg
Fiber:
4.43
g
Sugar:
18.4
g
Vitamin C:
39.7
mg
Calcium:
20.6
mg