Rosemary have been used as a medicinal herb, it strengthens the brain and the memory. In cooking, this herb is used as a seasoning in all dishes especially oily fish. In this recipe, you will try to taste the tenderness of swordfish with special seasonings.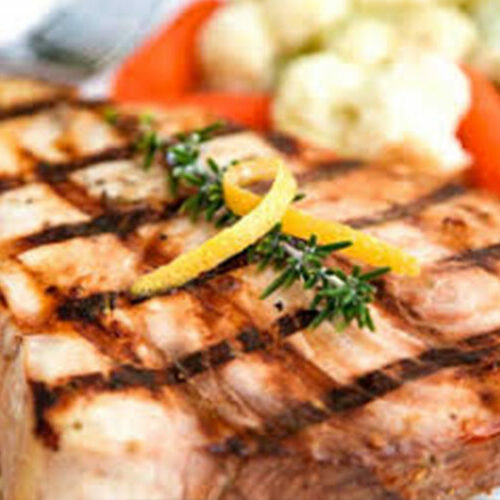 Grilled Rosemary Swordfish
This recipe is packed with special seasonings.
1

tbsp

Lemon Juice

1

tbsp

Olive Oil

2

Garlic Cloves

1

tsp

Minced Rosemary

1

tsp

Lemon Zest

1/4

tsp

Salt

1/4

tsp

Pepper

2

Swordfish Steaks
In a large plastic bag, combine the first seven ingredients then add the swordfish. Seal bag and refrigerate for 1 hour.

Drain and discard marinade. Moisten a paper towel with cooking oil.

Use a long tong to coat the grill. Grill the swordfish on medium heat. Heat 4-5 minutes each side.

Serve the swordfish on a serving platter and garnish with whatever vegetables you prefer.
Rosemary is a very beneficial herb, it is very beneficial for the brain and for strengthening memory. When you use rosemary in such a healthy meal, you will double the benefits and you will be tasting a healthy and delicious plate at the same time. 
Serving:
1
Steak
Sodium:
350
mg
Cholesterol:
52
mg
Calories:
214
kcal
Saturated Fat:
2
g
Fat:
11
g
Protein:
26
g
Carbohydrates:
2
g