Adding mushrooms to burgers will provide a simple yet super delicious effect on your burger. This recipe is easy with simple ingredients and steps. What makes the Grilled Mushroom burger special is the mixed umami flavor from the meat and the mushroom.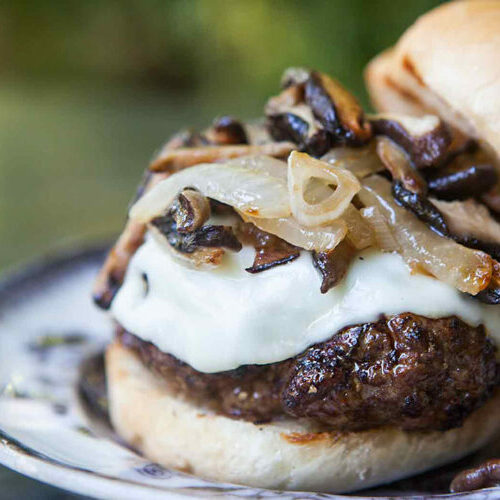 Grilled Mushroom Swiss Burger
What about releasing the most flavorful taste out of mushroom-beef combination?
Preheat the grill to medium heat.

In a skillet, melt butter over medium-high heat.

Add mushrooms, soy sauce and garlic; cook until mushrooms are soft

Shape beef into 6 patties. Sprinkle with garlic powder, salt and pepper.

Place patties on grill; cover grill. Cook with medium heat 8 to 10 minutes,until the meat thermometer reads 160°F.

Place cheese slices on top of burgers; cover and cook 1 to 2 minutes longer or until cheese is melted.

Place burgers in buns. Divide cooked mushrooms equaly over burgers. Add the tomatoes and onion on top. Serve.
What is good about this recipe is that the meat is lean which decreases your fat intake, it contains vegetables that add more fibers to your lifestyle.
What you can do is that you can use a whole wheat burger bun to add more fiber and also you can replace the butter with a little bit of vegetable oil to decrease the fat content.
Serving:
1
Bun
Sodium:
1160
mg
Sugar:
6
g
Fiber:
2
g
Potassium:
540
mg
Cholesterol:
95
mg
Calories:
440
kcal
Trans Fat:
1.5
g
Saturated Fat:
10
g
Fat:
23
g
Protein:
30
g
Carbohydrates:
28
g