In the following recipe you will be trying to grill the Florida lobster. What differs in this kind of lobster from the Maine one is that it doesn't contain claws.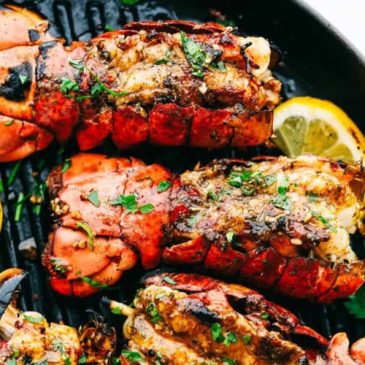 Grilled Florida Lobster Tail
A delicious and Exotic taste.
Ingredients
6

tbsp

Unsalted Butter

1

tsp

Cajun Seasoning

1

tsp

Lemon Zest

1

tsp

Minced Parsley

4

Florida Lobster Tails

Salt

Lemon Wedges

Minced Parsley
Instructions
Mix butter, seasoning, parsley and lemon zest in a small bowl.

Place lobster tails on a cutting board with the shell upward.

Use a sharp knife to cut through the tail lengthwise. Spread the shell apart with your fingers and carefully pull out the meat from top to bottom.

Preheat the grill to medium heat.

Place tails on the hot grill, shell side down, and spread a little of the butter over the meat.

Cover the grill, cook about 5 minutes. Spread on a little more butter then flip onto the meat side and cook another 3-5 minutes.

Remove from grill, spread on remaining butter, sprinkle lemon juice and parsley, then serve in the shell.